31 July 2017
HOWTO: Remove previous recipients from Apple Mail
by Steven B. Combs, Ph.D.
Here's a quick tip for those who may be battling the "previous recipients issue" in Apple Mail. For those not familiar with the issue, let me give you a quick example.
You compose a message in Apple Mail and send it to a recipient. You then later find that the recipient prefers future messages sent to a different email address. When you compose your next message to the recipient, the old address appears as you start to address the new email. You enter the new address; however, the third and subsequent times you compose a message to the recipient, autocomplete shows both addresses. If you are not careful, you will repeat your original error and select the non-preferred address. How do you get rid of the old address?
You can remove an address from the Apple Mail previous recipients list with the following steps:
From the Apple Mail pull-down menu, chose Window / Previous Recipients - Apple Mail will display the Previous Recipients window shown in the image below.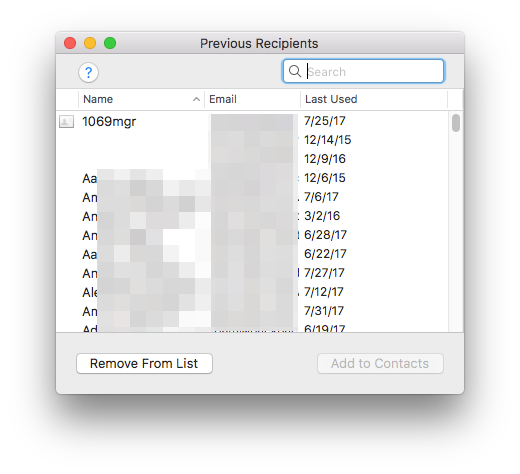 Manually scroll to find the offending address, or better yet, use the search input box to quickly locate the address
Click on an email address to highlight
Click the Remove From List button to eradicate the email address from the previous recipients list
Close the Previous Recipients window
When you create a new email message (⌘ + n) and begin to enter an email address, the incorrect recipient's email address should no longer appear.
This is an easy fixes; however, it was very bothersome and it took me awhile to find the solution. Now the solution will be just a Google search away for some else struggling with the same issue.